Breast Cancer Awareness Pink Straws
Product image 1

Product image 2

Product image 3

Product image 4

Product image 5

Breast Cancer Awareness Pink Straws
Our pink glass straws are dedicated to the support of Breast Cancer Awareness Month. Like the pink ribbon, these straws serve as a reminder to raise awareness and join together in solidarity. 
10% of all proceeds from the Breast Cancer Awareness Straws will be donated to the Keepers of the Flame Foundation. We are proud to join you in support of their mission to "shine light into the darkness, empowering breast cancer patients to weather breast cancer both physically and emotionally".
Available in our most popular sizes: 9" bent for standard size glasses and our 6" straight cocktail straw.
Orders of multiple straws will be combined in one gift box when possible.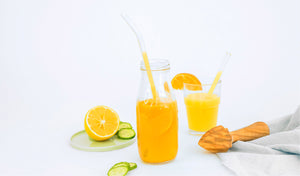 So Many Reasons to Love Hummingbird Glass Straws
Dishwasher Safe
Kid-Friendly
Happiness Guaranteed
---